Analytics & compliance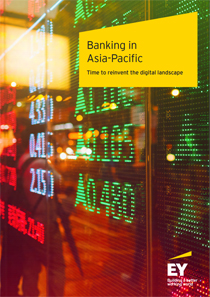 Banking in Asia-Pacific
Time to reinvent the digital landscape
The Asia–Pacific (APAC) banking sector offers opportunities for all banks. But, with disruptors and platform players redefining the financial services landscape, and with banks' profitability under pressure, not all banks can be winners. To succeed, incumbent players must accelerate their digital maturity and exploit their unique strengths. In particular, to optimize, grow and protect their business, they must embrace:
Intelligent automation to deliver efficiencies
Open application programming interfaces (APIs) to allow them to participate in the emerging data–sharing ecosystem and realize new growth opportunities
Digital strategies to manage financial crime and cybersecurity risks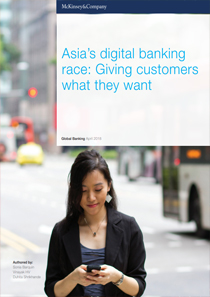 Asia's digital banking race: Giving customers what they want
Smartphones in hand, customers across Asia are changing how they bank, growing more open to exploring and using digital channels for their financial needs. This openness to digital channels will reward those banks that can meet customers' expectations; but it also represents a challenge to incumbent banks—because customers are also expressing a willingness to bank with non-traditional players such as fintechs and nonbanking payments players. Incumbent banks need a response to this changing landscape if they are to remain relevant and sustain growth.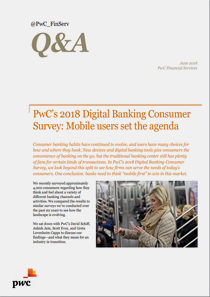 PwC's 2018 Digital Banking Consumer Survey: Mobile users set the agenda
Consumer banking habits have continued to evolve, and users have many choices for how and where they bank. New devices and digital banking tools give consumers the convenience of banking on the go, but the traditional banking center still has plenty of fans for certain kinds of transactions. In PwC's 2018 Digital Banking Consumer Survey, we look beyond this split to see how firms can serve the needs of today's consumers. One conclusion: banks need to think "mobile first" to win in this market.