Partnership
Group-IB is one of the leading providers of solutions aimed at detection and prevention of cyberattacks, online fraud, and IP protection. Group-IB Threat Intelligence system was named one of the best in class by Gartner, Forrester, and IDC.
Oz Forensics is a software developer of AI biometric onboarding platform. The platform helps to reduce costs and risks by automation online onboarding processes for financial institutions. It includes client online verification and identification by face biometry matching, liveness detection, ID validation and digital forgery recognition in scans and photos.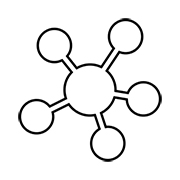 Semantic systems
Semantic systems Ltd. is a software company based in Taiwan. Its major focus is open-source intelligence, fraud investigation and analysis. The company has several software solutions , which are used for monitoring news and social media, aggregating business data and carrying out background checks and various kind of research.
Innovage Consulting is an innovative boutique consulting based in Nicosia,Cyprus. Using an international network of top experts and vendors, Innovage Consulting offers unique innovative technologies to businesses and organisations including advising, consulting and training.
Digital Enterprise Indonesia (DEI) is a Digital Training Provider, Digital Transformation Consultant, Digital Platform Developer and also the licensor of Bank 4.0 Book by Brett King – Indonesian Edition, the first and only in Indonesia.
NGN International is a systems integrator and IT consultant established in 2015 in Bahrain as a part of NGN Group, operating in MENA since 2005. NGN International helps customers to go digital efficiently and streamline business processes by adopting leading-edge technologies and through bespoke technological training programs.
PT Dymar Jaya Indonesia, establish in 1988 as a data communication company, and since 1992 we add data security solutions to serve the evolution of customer needs towards data security environment. Customer success is important fundamental to us, so that is why we've made every effort to help customers address compliance issues and security threats and deliver trust throughout their organization.

PT. Systema Global Solusindo is an Indonesian Company focusing on selective IOT Technologies to form Enterprise approach Smart Building, Smart Facilities and Smart cities implementation. The Company has been awarded Frost & Sullivan Indonesia Excellence award 2017. The first and foremost Indonesian company with Smart Building category recognition by Frost.
KMS Technology Solutions (Vietnam) fortes are innovative software services and digital solutions toward BFSI, ISVs and Enterprise. It is a consulting firm at its core, around which other digital services revolve. By design, everything it offers is digitally focused, of world-class standard, with engineering excellence, and at accelerated time-to-value.
GBG is the leading expert in global digital identity. We combine our powerful technology, the most accurate data coverage and our talented team to deliver award-winning location intelligence, identity verification and fraud prevention solutions. With over 30 years' experience, we bring together a team of over 1,250 dedicated experts with local industry insight from around the world to make it easy for businesses to identify and verify customers and locations, protecting everyone, everywhere from fraud.