Airome Announces Strategic Partnership with Singapore-based cybersecurity firm Group-IB
Posted on 12.11.2019 at 16:12
The combined go-to-market solution will include e-signature technology from Airome aided by the intelligence-driven Secure Bank solution from Group-IB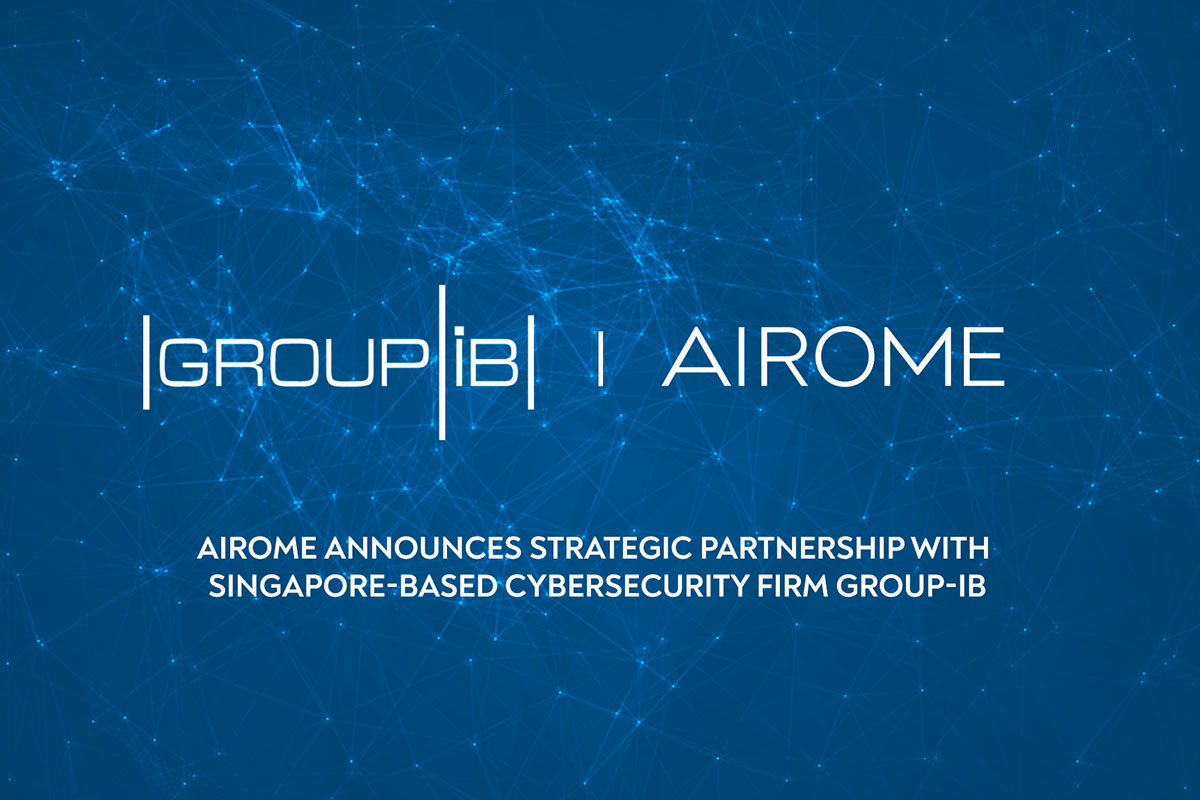 Singapore, 12 November 2019 – Airome Technologies, a developer of cybersecurity solutions for digital banking and e-document management systems, has announced a strategic partnership with Group-IB. The go-to-market solution combines anti-fraud systems, scoring and e-signature into remote banking services (RBS).
Group-IB, a Singapore-based cybersecurity company that specializes in preventing cyberattacks, is one of the global leaders in providing high‑fidelity Threat Hunting & Intelligence, best‑in‑class anti‑fraud solutions and high-profile cyber investigations.
With disruptive shifts taking place in the traditional financial services and fintech space in Singapore, the solution will help banking and financial institutions pro-actively combat cyber-fraud. While Singapore has a well-established traditional payments ecosystem, mobile payments continue to grow. The Government has been making concerted efforts to promote this ecosystem as well. An example of this is how NETS, the payments services provider in the country, has rolled out electronic payment terminals at hawker centres and coffee shops, allowing customers to pay using different payment options. The payment services system in Singapore has a well-calibrated regulatory framework.
With increase in digital payments, there is always the inherent risk of cyberattacks; from data breaches and fraud to credential stuffing. Credential stuffing is an automated injection of breached username and password pairs in order to fraudulently gain access to user accounts. The Singapore Government is once again taking the lead in combating these challenges. In August this year, the Monetary Authority of Singapore (MAS) announced mandatory rules for all financial services and e-payment firms to follow. These include strong passwords, firewalls to prevent unauthorised network access and multi-factor authentication.
"Identity theft and unauthorised access to bank accounts is a big area of concern in the Southeast Asia region. Add to this, many companies are still seemingly unaware of the full consequences of data breaches and leaks of credential stuffing. These issues provide an ideal platform for social engineering attacks," said Denis Kalemberg, CEO of Airome Technologies.
"While developing PayConfirm, our aim was to ensure that maximum level of security is achieved to perform any operation across digital banking channels without affecting the mobility or ease of use for a bank's users. Our integration with Group-IB's Secure Bank helps achieve an uncompromising combination of these measures. This adaptive authentication helps to minimise a wide range of risks when it comes to any type of operations and make the lives of bank's users simpler.  We believe that our partnership with Group-IB is timely and relevant to not just Singapore but the broader Southeast Asia region," he added.
Secure Bank leverages Group-IB's experience in threat intelligence, signature, behavioral and cross-channel analytics to detect threats invisible to traditional transactional anti-fraud-systems. The product contains full stack of anti-fraud technologies, which protect banks and its customers across all layers and identify fraud at a preparation stage. Complementing other anti-fraud systems, Secure Bank can block malicious bots in real time, detect attacker's logins, social engineering, botnets, money laundering, victim compromise or infection of an end user device. Secure Bank can also protect users in the mobile channel (smartphones, tablets, and other iOS and Android-based devices). The product's unique adaptive logic is able to correlate data on users behaviour on their devices as they interact with their bank through various channels and on behavior across different banks to prevent cross-banking fraud. Machine learning algorithms, advanced device fingerprinting, and user behavior analytics allow the system to detect unusual or suspicious actions committed by a criminal impersonating a real user.
"We are excited to partner with Airome Technologies to drive a change in the cyberhygiene and proactive threat intelligence landscape in the region. Our Secure Bank solution helps detect threats that are invisible to traditional transactional anti-fraud systems: user device scoring is carried out in real time across web and mobile channels. Imagine a transaction which is initiated on a mobile device through a remote control application, then such a digital signature for such transaction will not be issued since these actions have signs of a socio-technical attack. It is an easy and convenient way for the banks to protect their clients." said Ilya Sachkov, CEO of Group-IB.
The combination of Secure Bank and PayConfirm provide banks' clients a secure and seamless platform to perform transactions via digital channels. The bank's users only need to enter the password, or use the TOUCH/FACE-ID interface, or e-signature to perform any operation such as authorise transactions or e-sign documents.
About Airome Technologies
Airome is a developer of cybersecurity solutions for digital banking and e-document management systems. The company provides a secure client-server software to confirm or digitally sign any types of operations, including transaction confirmation or e-documents signing right in your mobile device. The company's mission is to help in aiding user-friendly, secure and cost-effective digital banking.
About Group-IB
Group-IB is a Singapore-based provider of solutions aimed at detection and prevention of cyberattacks, online fraud, IP protection and high-profile cyber investigations. Group-IB's Threat Hunting Intelligence system has been named one of the best in class by Gartner, Forrester, and IDC. Group-IB's technological leadership is built on the company's 16 years of hands-on experience in cybercrime investigations around the world and 60 000 hours of cyber security incident response accumulated in one of biggest forensic laboratory and a round-the-clock center providing a rapid response to cyber incidents—CERT-GIB. Group-IB is a partner of INTERPOL, Europol, and has been recommended by the OSCE as a cybersecurity solutions provider.
Group-IB's experience, threat hunting & intelligence have been fused into an ecosystem of highly sophisticated software and hardware solutions designed to monitor, identify, and prevent cyber threats.
Our mission is to protect clients in cyberspace using innovative products and services.
For more information, please contact:
Rajiv Menon
Client Services Director
PRecious Communications
+65 8186 3494
Adelina Minivaleeva
Marketing Manager
Airome Technologies
+7 985 575-25-28
Sergei Turner        
Communications Manager
pr@group-ib.com
+65 3159-3798