Airome Makes an Entry into Cyprus Through a Strategic Partnership with Innovage Consulting
Posted on 26.02.2020 at 13:42
Nicosia, 26 February 2020 – Airome Technologies, a Singapore-based developer of cybersecurity solutions for digital banking and e-document management systems, has announced its entry into the Cyprus market and has signed up with Innovage Consulting as its key channel reseller in the market; creating an integrated go-to-market solution for banks and the vibrant fintech ecosystem.
Cyprus has been making steady progress in creating a seamless digital payments ecosystem. The Cyprus Securities and Exchange Commission is putting in place market regulations to foster the development and adoption of financial technologies. They recently introduced the Innovation Hub, a platform between authorities and companies employing fintech. Even digital banks such as Revolut have made a foray into the Cyprus market. The fintech ecosystem is exponentially growing in the market with an estimated 200+ fintech startups presently in Cyprus.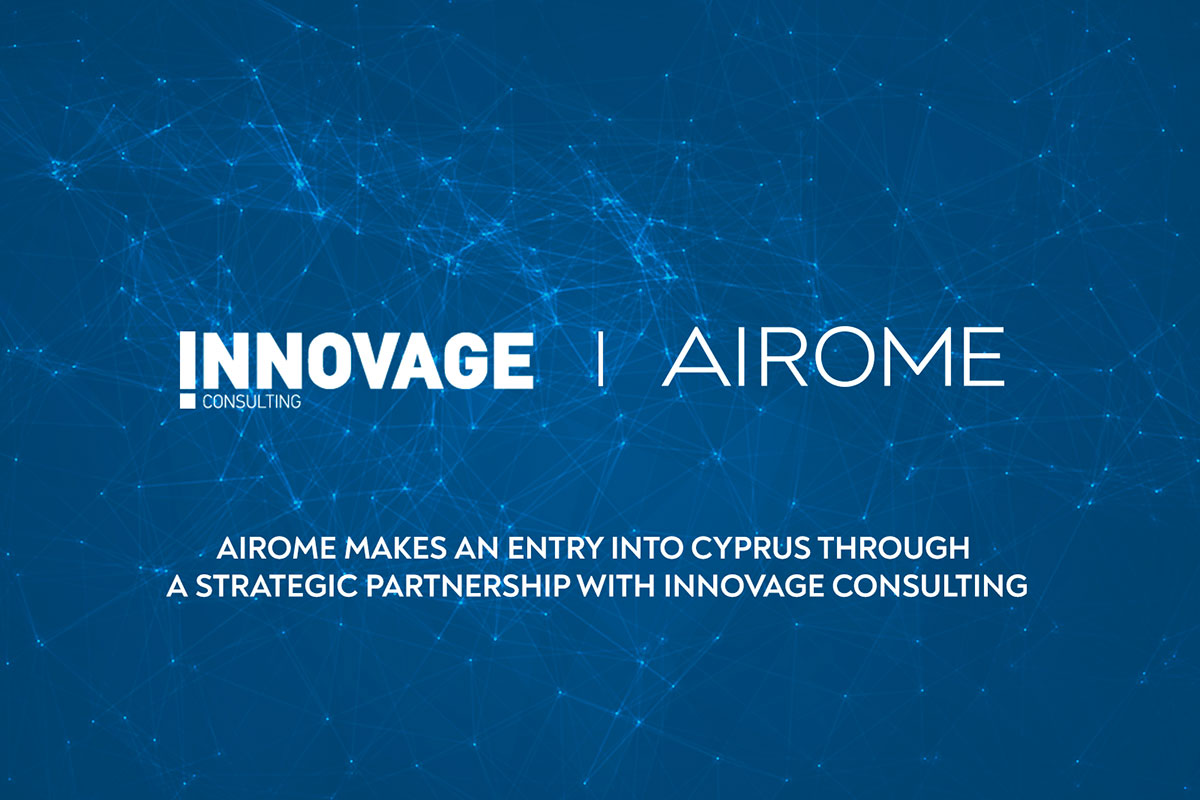 "Cyprus is at an exciting intersection of disruptive innovation, technology and change, making rapid strides in fintech services and in digitalising its domestic banking secor. However, a further development of digital banking leads to an increase in fraud and rise of unathorised transactions in digital channels that needs to be addressed proactively and swiftly. Our market entry into Cyprus in collaboration with our partner Innovage Consulting provides an ideal platform to make further inroads into the European market. We see immense potential in the European market and have already started negotiating with a few local suppliers – and we are glad that now we will be closer to them as a result of this strategic partnership," said Denis Kalemberg, Co-Founder and CEO of Airome Technologies.
Airome Technologies provides its clients with a high level of security and an easy way to protect payments, generated via any digital channels, such as internet banking, mobile banking, CNP (card-not-present) operations, private banking etc. Innovage Consulting is a leading channel reseller in Cyprus providing consulting services, technoogy solutions and training.
"Our partnership with Innovage Consulting will allow to offer our solution to banks to lower the risk of unauthorised transactions caused by man-in-the-middle, phishing, and social engineering attacks. Our solution PayConfirm is secure, easy-to-use and convenient for the bank's client and the most importantly cost-effective for banks and financial institutions. We believe that the solution will be essential, timely and relevant to the market, considering the dynamic shifts taking place in Cyprus and the broader European region," highlighted Kalemberg.
"We have always been striving to identify, evaluate and introduce to the market, the very best of technologies from reliable vendors that offer unique, well tested solutions to real problems and improve both the performance of organisations and the user experience of their clients. We live in a new digital age in which simplicity has to be a core value and incorporated in all technologies without sacrifices in security, compliance and performance. Airome Technologies is a company that fulfils all these criteria and can simplify greatly online transactions with speed, reliability and security. We are so happy for our partnership with Airome Technologies and look forward to a fruitful cooperation", said Dr Costas Y. Konis, CEO of Innovage Consulting.
About Airome Technologies
Airome Technologies is a Singapore-based developer of cybersecurity solutions for digital banking and e-document management systems. The company provides a secure client-server software to confirm or digitally sign any types of operations, including bank transaction or e-documents right in a mobile device. Our solution lowers risk of unauthorized transaction caused by man-in-the-middle, phishing, social engineering attacks.
About Innovage Consulting
Innovage Consulting is an innovative boutique consulting based in Nicosia,Cyprus.
Using an international network of top experts and vendors, Innovage Consulting offers unique innovative technologies to businesses and organisations including advising, consulting and training.