Southeast Asia's Booming Internet Economy to Boost Fintech Growth
Posted on 14.10.2019 at 15:11
Southeast Asia's Internet economy is booming, driven by the ubiquity of mobile phones, rising Internet penetration and a growing middle class, according to a new report by Google, Temasek and Bain & Company.
In the e-Conomy SEA Report 2019, released earlier this month, the companies say that the region's Internet economy has hit a new milestone, reaching US$100 billion for the first time this year, corresponding to a 39% increase from 2018. The sector is on track to hit US$300 billion in 2025, the report says.
The research, which explores the most significant industry trends observed in 2019 and analyzes the current and future potential of the Southeast Asian Internet economy across Indonesia, Malaysia, the Philippines, Singapore, Thailand and Vietnam, the region's six largest markets, found that over the last four years, 100 million people became online users.
Today, Southeast Asia is home to the world's most engaged mobile Internet users in the world, which total 360 million Internet users, among which 90% of them connecting primarily through their mobile phones.
Booming ride hailing industry
According to the research, services including e-commerce, online travel, ride hailing and food delivery have witnessed significant growth over the past years. Demand for ride hailing services in particular has exploded with the number of active users ballooning five times to reach more than 40 million today. In comparison, rise hailing services in Southeast Asia only had 8 million active users in 2015.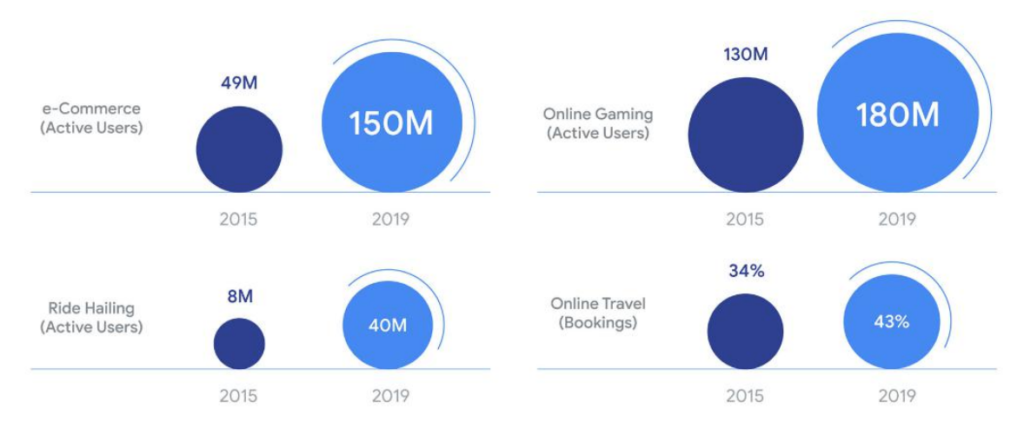 Initially, ride hailing players in Southeast Asia focused primarily on providing alternative transportation services through an app. But the sector has since transformed tremendously, and today, ride hailing companies in the region offer a whole range of offerings including food delivery, grocery shopping, entertainment ticket selling, auto maintenance, and financial services.
The ride hailing industry in Southeast Asia is led by two players: Grab, headquartered in Singapore, and Gojek, from Indonesia.
According to the report, the momentum the ride hailing industry has witnessed is only going to continue as a new generation comes of age and people outside big cities come online.
Indonesia and Vietnam, the two pacesetters
Although the Internet economy is thriving across all of these six Southeast Asian countries, Indonesia and Vietnam are standing out from the crowd and recording stronger growth rates.
While in Malaysia, Thailand, Singapore and the Philippines, the Internet economy is growing by between 20% and 30% annually, Indonesia and Vietnam are leading the pack and recording growth rates in excess of 40% a year.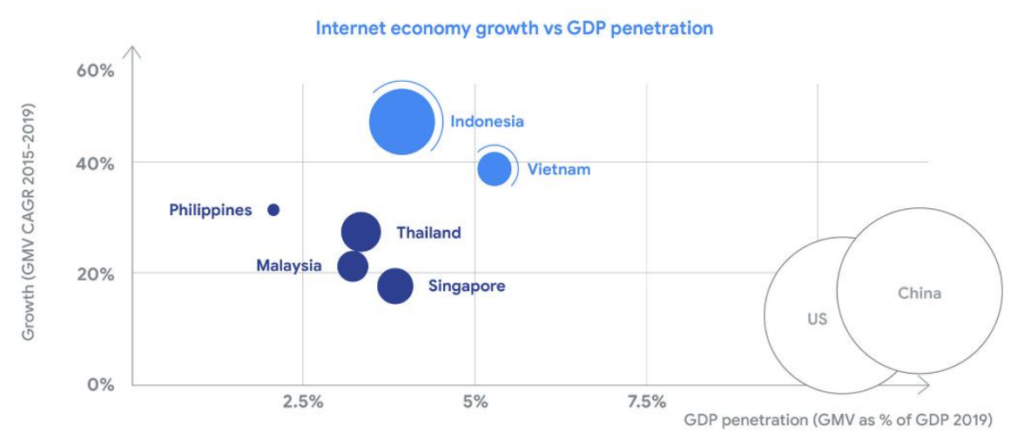 Since 2015, Indonesia's Internet economy has more than quadrupled in and is well on track to cross the US$130 billion mark by 2025, the report says.
Meanwhile, Vietnam's Internet economy is reaching for US$12 billion in 2019 on a 38% annualized growth rate since 2015, and the country is emerging as the most digital of all economies in the region with e-commerce driving the growth.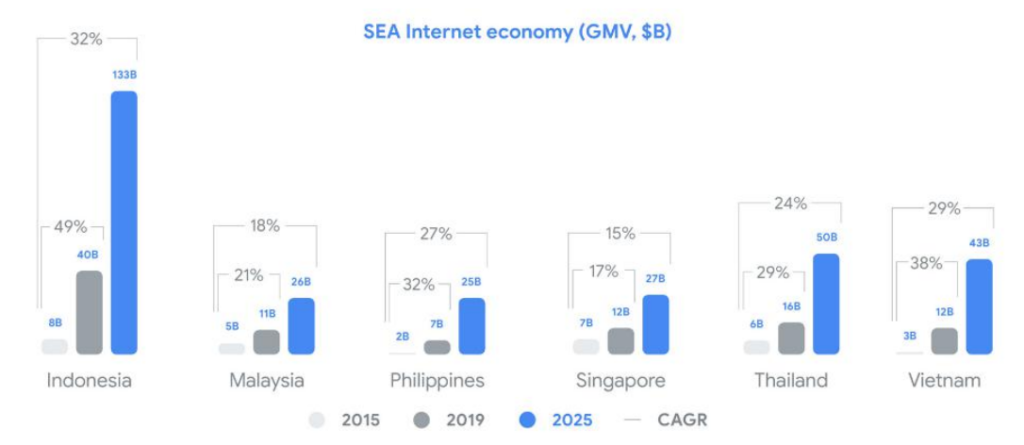 Growth of digital financial services
Another key trend highlighted in this year's report is the growth of digital financial services driven by the large pool of unbanked and underbanked in the region.
Of the nearly 400 million adults in Southeast Asia, only 104 million are fully banked and have full access to financial services. Meanwhile, 98 million are deemed underbanked with a bank account but insufficient access to credit, investment and insurance, and a staggering 198 million are unbanked, meaning they do not own a bank account at all.

Leveraging technology, new entrants are able to offer more inclusive financial services that help increase access, improve convenience, and cut costs.
According to the study, five financial services in particular are ripe for transformation in the digital era: payments, remittance, lending, investment and insurance.
More specifically, digital payments have witnessed strong growth in terms of adoption and usage, a trend that come in line with the growth of other Internet economy sectors including ride hailing and e-commerce.
Digital payments are expected to grow from US$600 billion in 2019 to cross US$1 trillion by 2025 and become the payment method for nearly one in every two dollars spent in the region, the report says.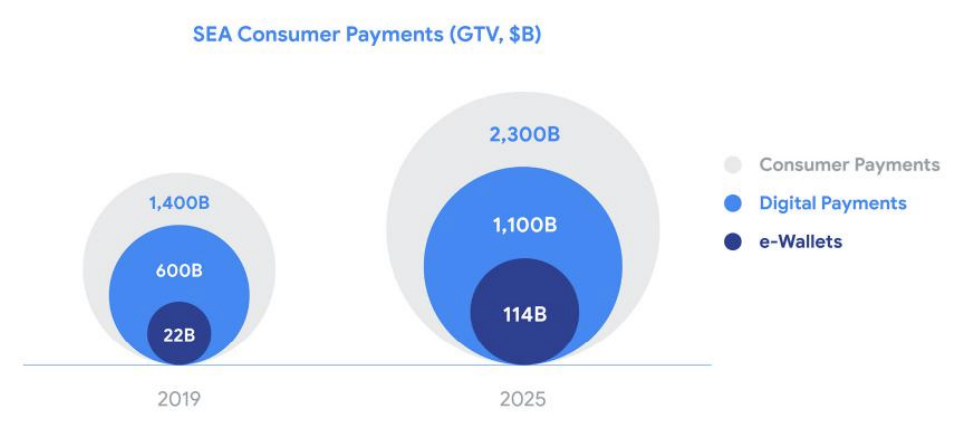 Other financial services are still in a nascent stage but their penetration rate are expected to increase two-to threefold over the next five years.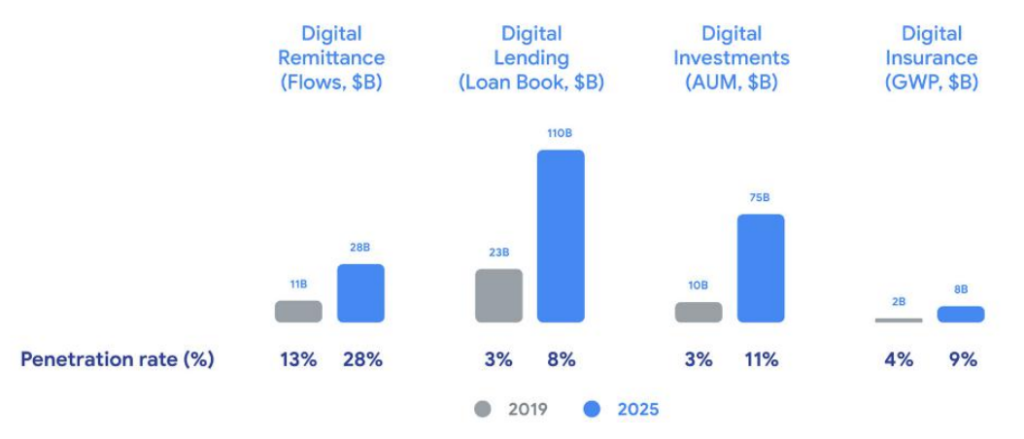 The report advises governments of ASEAN countries to align digital financial services regulations across the region to facilitate the development of regional business models and help channel resources towards investments in world-class tech and talent.
by Fintechnews Singapore
Reference: https://fintechnews.sg/34248/studies/southeast-asia-booming-internet-economy-to-boost-fintech-growth.