WWPI chooses PayConfirm as PSD2 compliant solution
Posted on 18.05.2020 at 09:51
18.05.2020, Cyprus:
Wise Wolves Group, a financial group that provides a full spectrum of financial, investment and payment services, has introduced to their clients a new method of confirming digital transactions. As a key element of their digital services the Group has chosen the PayConfirm, mobile transaction authentication signature (mTAS) solution developed by the Singapore-based company Airome Technologies.
The solution is fully compliant to be used for Strong Customer Authentication (SCA) under the EU Payment Services Directive (PSD2) and at the same time allows to confirm or digitally sign any types of operations, including any digital financial transaction confirmation or e-documents signing without a visit to an office. Thus, the PayConfirm is now available to customers of Wise Wolves Payment Institution, European payment service provider, operating under the license of Central Bank of Cyprus (115.1.2.32), to securely accesses their payment accounts online and initiate electronic payment transactions through a remote channel. Wise Wolves Group plans further to extend the solution for confirmation of other financial transactions and services the Group's entities offer.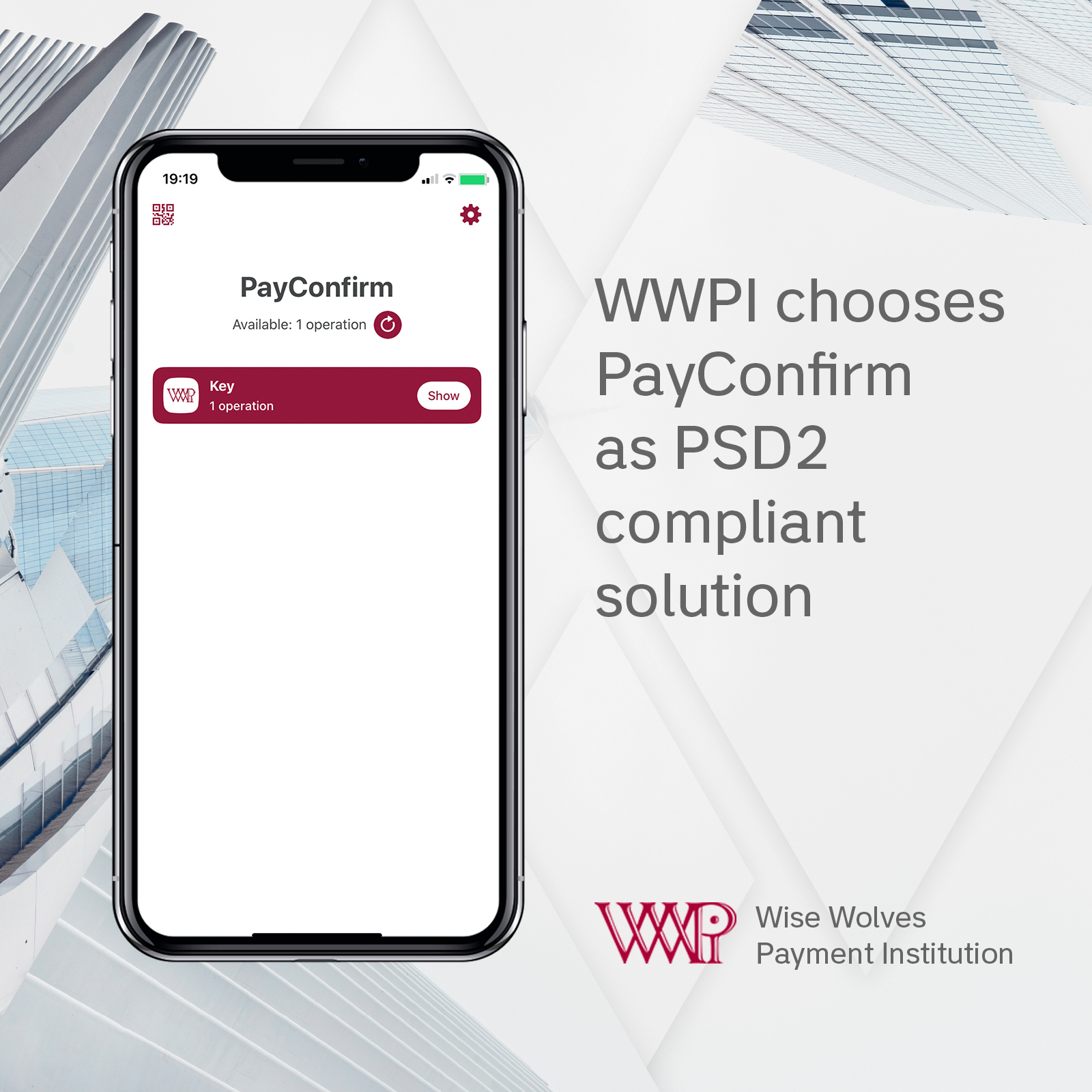 Wise Wolves Group is used to providing their clients with a variety of financial and payment services and implementing best world practices and a high-tech approach. During the course of a detailed analysis of the solutions presented in the market, WWG has chosen the PayConfirm. The main criteria for choosing the solution were simplicity and strong technology, ensuring a given level of operation security.
«We were looking for a solution that would replace current means of log-in and transaction confirmations and satisfy PSD2 requirements. As we all know, new Directive applies technical standards and certain restrictions, such as SMS OTP, while we find it critical to provide our clients a mobile, modern and user-friendly way to proceed with their payment operations. The PayConfirm by Airome Technologies helps us to satisfy all these criteria and also make payments more secure and protect our clients from potential fraud», said Marfa Shishkina, Executive director of Wise Wolves Payment Institution.
The main advantage of this payment confirmation method over the traditional one, such as SMS with one-time password or OTP tokens, is that it is done just in one tap on a mobile smartphone screen, no matter on what platform you produced the operation – Internet or a mobile banking app. Besides, the transaction confirmation is generated directly on the client's mobile device. The confirmation is linked to the transaction's details and this decreases a chance of the theft of funds from the account. One more point is that there is an option to use the solution even without internet connection on the smartphone.
"Wise Wolves Group has approached the issue of starting the new way of transaction confirmation very professionally and has made for its clients a secure and convenient service. This successful completion of the PayConfirm implementation in Wise Wolves Payment Institution will allow us to accelerate our go-to-market strategy and prove that our cybersecurity solution complies with PSD2 standards», said Denis Kalemberg, CEO of Airome Technologies.
"We are proud to say that right now companies are discussing more opportunities for scaling and future business cooperation. Beyond the payment services provided by the Wise Wolves Payment Institution, Wise Wolves Group offers full range of financial, investment and brokerage services. We expect to extend the solution to wider range of operations and services, thus, in nearest future the clients of Wise Wolves Group may benefit from log-in via QR, adaptive and frictionless authentication and many other features that will simply their everyday business operations and enjoy the customer journey with WWG," added Marfa Shishkina, Executive director of Wise Wolves Payment Institution.
About Wise Wolves Payment Institution:
Wise Wolves Payment Institution (WWPI), a part of Wise Wolves Group, established in 2016, is a Cyprus-based payment institution included into the official Registry of the European Banking Authority (EBA) and operating under the license of Central Bank of Cyprus (115.1.2.32). WWPI provides local and cross-border payment services to via its user-friendly web-interface in compliance with applicable European security standards and payment industry's regulations. WWPI is a member of the SWIFT worldwide interbank financial communication system, which makes international payments in the shortest possible time and with guaranteed security.
About Airome Technologies:
Airome Technologies is a Singapore-based developer of cybersecurity solutions for digital banking and e-document management systems. The company provides a secure client-server software to confirm or digitally sign any type of operations, including bank transactions or e-documents, on a mobile device. Our solution lowers the risk of unauthorized transactions caused by man-in-the-middle, phishing, and social engineering attacks.