Airome technologies announces partnership with digital enterprise indonesia.
Posted on 17.04.2020 at 18:04
To respond to the banking crisis amid the covid-19 pandemic.
17 April 2020, Jakarta – Airome Technologies today announced a new channel reseller agreement with Digital Enterprise Indonesia (DEI), significantly expanding the company's Indonesian channel partner ecosystem. This new channel partnership follows multiple recent additions to Airome's Indonesian reseller network and represents significant growth of the company's thriving partner ecosystem.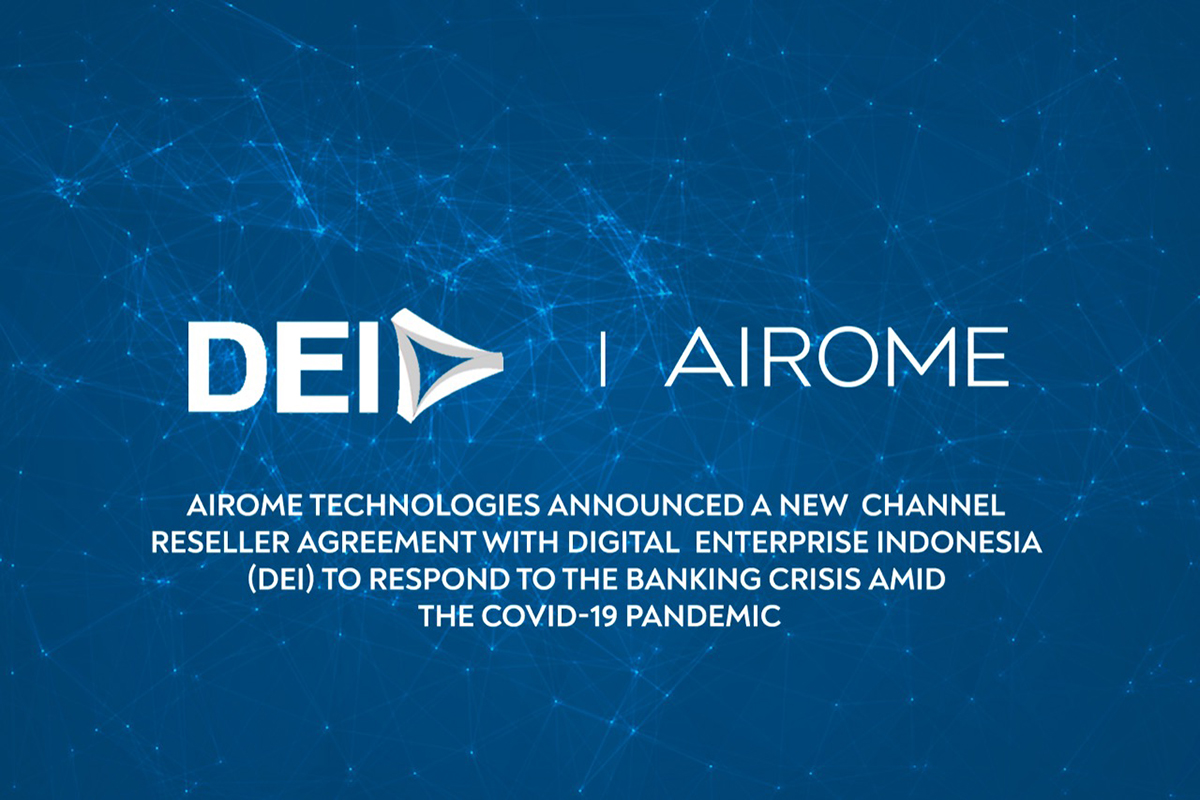 The Indonesian economy showed stable growth over the past years both in the banking and financial sectors. According to Fitch Solutions Macro Research report, Indonesia's FinTech sector is being established as the central bank and other regulators show huge interest in boosting the banking sector in the coming years. The payments industry in Indonesia has recorded positive growth as shown by the transactional value of US$ 563 billion in 2019. Such growth in the payments industry is due to the increasing purchasing powers of individuals and the accelerated growth of smartphone adoption. This growth is clearly visible from the doubling of transactional values recorded up till September 2019. However, this strengthening of digital relationship between consumers and businesses raises the need for businesses to invest in technologies that ensure customer security and minimization of fraud.
"We are continuing to meet our milestones, which includes expanding our global presence. Indonesia is at the point of digital transformation, rapid technology adoption with a vibrant FinTech ecosystem. Conversely, with the rise of the digital payments industry, we are seeing an increasing threat of fraud and rise in unauthorized online transactions. Our product PayConfirm is designed specifically for this type of unique needs and provides security to protect bank's clients from potential fraud. Through the expansion of our channel partner ecosystem in Indonesia, PayConfirm is made available to a potentially large customer base" – highlighted Denis Kalemberg, Co-Founder and CEO of Airome Technologies.
Airome Technologies offers a turnkey software platform that works on the basis of mobile transaction authentication signature (mTAS). PayConfirm can be implemented by banks, financial institutions and governments; allowing them to take full advantage of a secure, convenient and seamless technology. DEI will promote Airome's software platform that performs mTAS to confirm any type of operations, to banks, financial institutions and government.
"Our partnership with DEI provides more opportunities for banks and financial institutions to exploit the advantages of PayConfirm. We are glad to become partners with Digital Enterprise Indonesia, who are well regarded and experts in digital technology in Indonesian market. With an increasing demand for financial services and cashless payments technology, we believe that the solution is essential, timely and relevant to the market" – said Denis Kalemberg, Co-Founder and CEO of Airome Technologies.
"This business collaboration is just in time when the financial world is trying to get past the Corona crisis, banks are forced to immediately prepare a secure digital banking solution that is a key to gaining public trust. The financial services industry must realize; this has become a necessity. Therefor we believe that the Payconfirm solution can answer this challenge" said Bari Arijono, Founder & CEO Digital Enterprise Indonesia.
About Airome Technologies:
Airome Technologies is a Singapore-based developer of cybersecurity solutions for digital banking and e-document management systems. The company provides a secure client-server software to confirm or digitally sign any type of operations, including bank transactions or e-documents, on a mobile device. Our solution lowers the risk of unauthorized transactions caused by man-in-the-middle, phishing, and social engineering attacks.
About Digital Enterprise Indonesia:
Digital Enterprise Indonesia (DEI) is a digital product & service provider company founded by Bari Arijono on August 8, 2015 in Jakarta. With a strong digitalization vision in all industrial sectors, DEI wants to invite the Indonesian people to digital literacy through its mission which focuses on the real sector, MSME, Payment and Financial Services. Therefore, DEI has 3 business pillars: Digital Training Center, Digital Business Transformation and Digital Technology Development. In 2017, successfully built a blockchain company in Canada as a result of a joint venture with Digimax which provided a Security Token Offering (STO) solution and successfully listed on the Canadian Security Exchange (CSE), then collaborated with Lokalize.io in Malta to build a blockchain solution for SMEs and in 2018 built a blockchain bank platform with Globiance.com. At the end of 2019, Brett King was given the trust to hold the Bank 4.0 license from publishing the Book, Training and Consultation for the Digital Transformation Bank using the Bank King Model. www.digitalenterprise.co.id.